When it comes to the popular technological devices used by people in and around their houses, home security systems always occupy a place in the list.
If you are willing to watch over your yard, you may reach out to one of the most reliable home security company – Ring.
The Ring has been in the market for a long time now, and it brings beautiful outdoor home security cameras. But here's the catch – Ring offers various camera models. Here is a comparison between two of its major segments: Ring spotlight vs. floodlight.
A critical point that should be noted here is that no matter which Ring camera you choose, you will get the same camera quality.
So, all of it boils down to lighting and illumination. Thus, this article compares the two kinds of lights, ring spotlight vs. floodlight. Lights impact the night-time illumination and power source.
Wires or Wireless?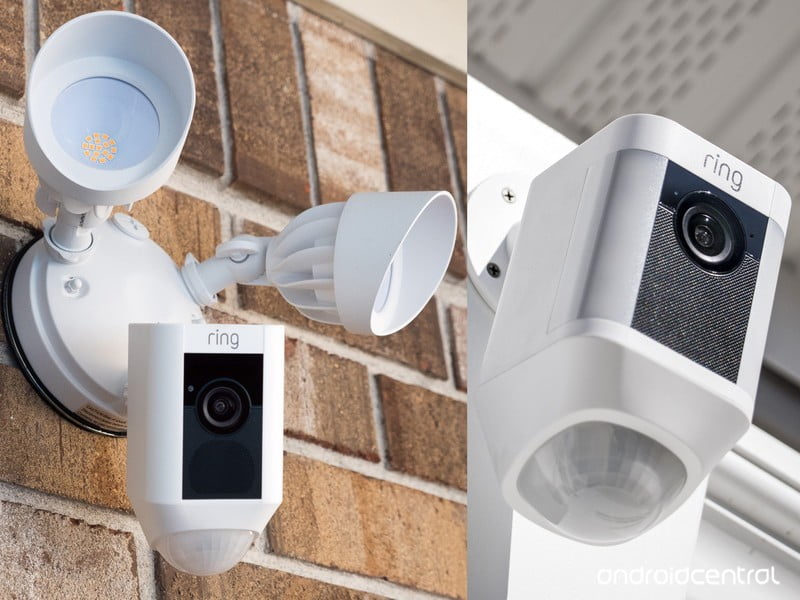 Before anything else, you need to consider the number of wires you would like with your camera. Floodlight requires at least 120-volt wiring. It can only be mounted and hard-wired to an electrical box.
If you do not want to deal with in-wall electrical wiring, you will have to go for the Spotlight. There is a rechargeable battery-only model that can be recharged every six months or so.
The battery can be popped out, charged inside, and easily mounted inside the camera. You will get notified when the battery gets low through the Ring app.
Battery-only cameras can be placed wherever you want (as long as it lies within the Wi-Fi range), while wired cameras have certain limitations. But again, you don't have to bother recharging them. Thus, it is advised to go for wired ones if possible.
Ring Spotlight vs. Floodlight: Similarities
Spotlight and floodlight share some similarities. They are listed below:
Video Quality
Both record videos in high definition 1080p resolution. The image quality Ring offers brilliant. You don't have to think twice about that. The cameras come with a 30 FPS with a 140-degree viewing field. You will be able to spot activities from zero to twenty feet easily.
Two-Way communication
Both models include a speaker and a microphone to facilitate two-way communication, which means you can talk to the person standing outside your house. You can also chat with people while you are away from home through the Ring mobile application.
Live View
You can switch to live view at any time to watch the camera feeds any time. The live footage can be recorded for $3 extra per month.
Alarm
Spotlight and floodlight cameras come with a 110-decibel alarm. Sirens act as a double-edged sword; they scare away potential robbers and warn those inside the house. The alarm is loud enough to serve both purposes very well.
Cloud Storage
Each model provides cloud storage allowing you to store videos if you have a paid subscription – An essential pack for $3 and a premium pack for $10. Essential and both offer the same features, the only difference being the number of cameras.
Cloud storage allows you to access the videos 24/7. Please note that there is no offline storage, so the cloud storage may have some issues if your internet crashes.
All the ring cameras offer lifetime purchase protection. What is it? If your camera gets stolen, you must notify Ring of the theft with a copy of the police report.
You will receive another brand-new camera free of charge. They have infrared night vision and work with Amazon Alexa. Some security cameras offer full-color night vision, but these are not one of those.
Stringify and IFTTT are security trigger systems through which systems communicate with each other to detect motion. Ring cameras are compatible with both of them.
Ring Spotlight vs. Floodlight: Installation
Ring Floodlight Camera Motion-Activated HD Security Cam Two-Way Talk and Siren Alarm, White
Connect your Ring camera with Alexa then enable announcements to be alerted when motion is detected....
Lets you see, hear and speak to visitors from your phone, tablet and PC
With a Ring Protect Plan (subscription sold separately), record all your videos, review what you...
Requires hardwired installation to weatherproof electrical boxes
Monitors your home in 1080HD video with infrared night vision and Live View
One of the main differences between Spotlight and floodlight is the way they absorb power. The Ring allows the Spotlight to be powered from multiple sources such as solar panels, batteries, AC plugins, or wires. On the other hand, the floodlight needs a power source that should be connected to your electrical system through wires.
Due to this reason, the installation process for camera models is a little different. You will need to call a professional to install a floodlight, usually inside a junction box. The Spotlight can be mounted just about anywhere since it is not hard-wired.
Remember to download the Ring app and set up your ring spotlight before installation. The ideal height for the camera is nine feet off the ground.
Using the solar power option, use the micro USB cord to connect the camera with the solar panel.
Ring Spotlight vs. Floodlight: Common Features
Video Quality – 1080p
140° field of view
110-decibel alarm
Live Streaming
Night Vision
Activity Zones
Third-party Integration
Cloud Storage
Ring Spotlight: Special Features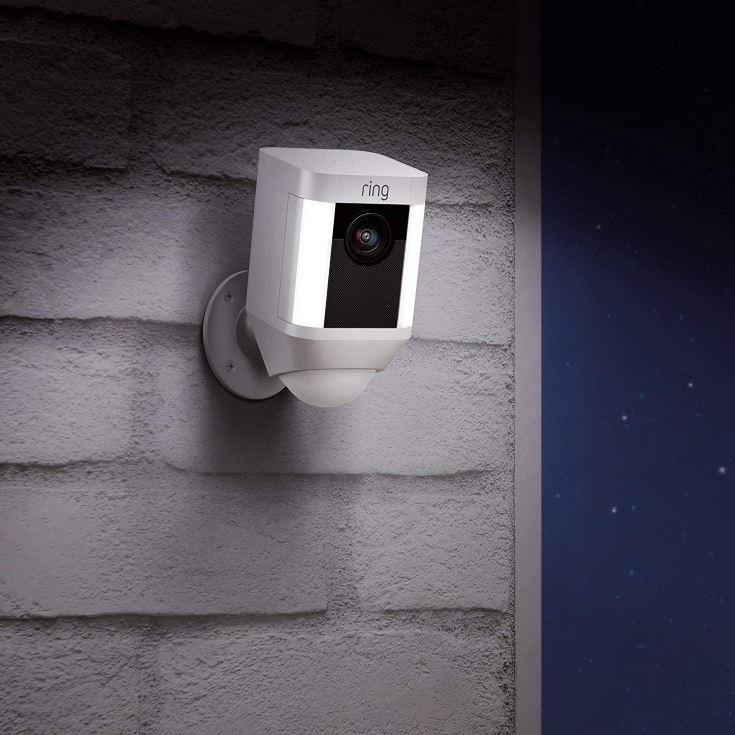 The Spotlight has an elegant, minimalistic look. Most of the features are the same as the floodlight, but the Spotlight is believed to be a bit more advanced. It has two small lights built-in that get activation with motion.
You will find four models with different power options, namely, Spotlight Cam Wired – for a traditional power outlet, Spotlight Cam Mount – that can be hard-wired to electrical boxes, Spotlight Cam Battery – with a rechargeable battery and Spotlight Cam Solar.
The key advantages of the Spotlight are – it has condensed, bright lights for smaller areas, long battery life, a solar power option, and offers two-way communication wherever it is mounted.
Ring Floodlight: Special Features
The floodlight is costlier than other Ring cameras mainly because it provides ultra-strong security and extra-bright floodlights. The lights are capable of illuminating a much wider area than spotlights. Other cameras have lights from 300 to 375 lumens in brightness, while the one in the floodlight can go up to 1800 lumens. See the staggering difference? The lights are also adjustable for better visibility.
The floodlight must be wired; there is NO option for batteries. It has a pair of 3000K floodlights. The floodlight comes with 270-degree motion detection and facial recognition. Smart zoom is also available.
The floodlight's key highlights are – wide motion detection angle, loud siren, VERY bright adjustable floodlights, and unlimited power (without a power outage, of course).
Ring Spotlight vs. Floodlight: Where to Install?
The floodlight camera must be installed where it can easily have power access. Some ideal spots can be considered to mount the floodlight. Since the lights are very bright, it can be installed above the garage.
It can be used to illuminate low light areas like a barn or a shed. Do not install your floodlight very far away from your router or Wi-Fi, or it will lose an internet connection.
Talking about the Spotlight, it can be placed anywhere. You can utilize the multiple power options and place the camera in different areas of the house. The Ring Spotlight camera has motion-activated lights.
So, if you do not want a harsh glare of lights, you can choose the Spotlight. You don't require an experienced electrician to install a spotlight. Spotlight Wired came directly plugs into your standard power outlet.
Also, the Ring spotlight is better optimized to be installed horizontally because the motion detector should be placed parallel to the ground to detect objects effectively.
Ring Spotlight vs. Floodlight: Visual Appearance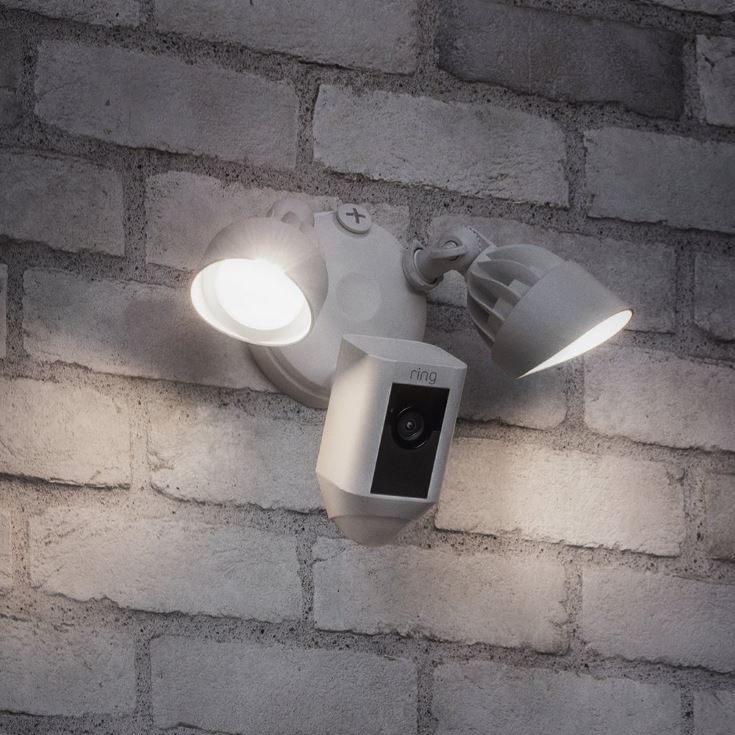 We should not be talking about this. Why are we even concerned about the looks of a home security system? But some people pay attention to aesthetics. Also, the Ring Spotlight and Ring Floodlight Cameras look different.
The Spotlight has a clean and crisp appearance. It is a single piece of hardware with lights integrated into the camera unit. The floodlight looks a bit clumsier because of floodlights. Lights stick out like antennas.
Ring Spotlight vs. Floodlight: Which One to Choose?
Considering the reputation, quality, and features, it is evident that both the cameras are competent and would not disappoint.
The answer depends on your needs and objective with an outdoor security camera. The floodlight is more reliable and is meant for larger spaces, while the Spotlight has the option of battery power, with a better aesthetic, and is meant for tighter spaces.