Everybody loves good relaxation, and when relaxation can help decrease stress, headaches and give you better sleep, you know you are making some good decisions in your life. These right decisions and investments are hot tubs.
Hot tubs are a perfect way to relax muscles and joints, making it a great reason to own one. Many people go to recreation centers or gyms to use the facilities of the sauna, steam rooms, and hot tubs, multiple times a week, making it a smart choice to buy one for your place.
Before going to the store for hot tubs, you should know what type of hot tubs will be perfect for you. There are many types of hot tubs in various kinds with one too many facilities built-in. It is beneficial to know what type of hot tub will be the best for your needs before purchasing.
In this article, we have covered 15 different types of hot tubs tha satisfy another need, along with the said relaxation.
Given Below is 7 Key Types of Hot Tubs
Portable Hot Tubs
Portable Hut tubs are one of the most flexible types of hot tubs. It gives the consumer choice of color, size, seating configuration, and built-in feature selections. These are traditional and the essential structured hot tubs. It is what most of us think of first when we hear hot tubs. These hot tubs are very durable, strong, energy-efficient, and offer higher performance than other types of hot tubs.
Swim or Exercise Hot Tubs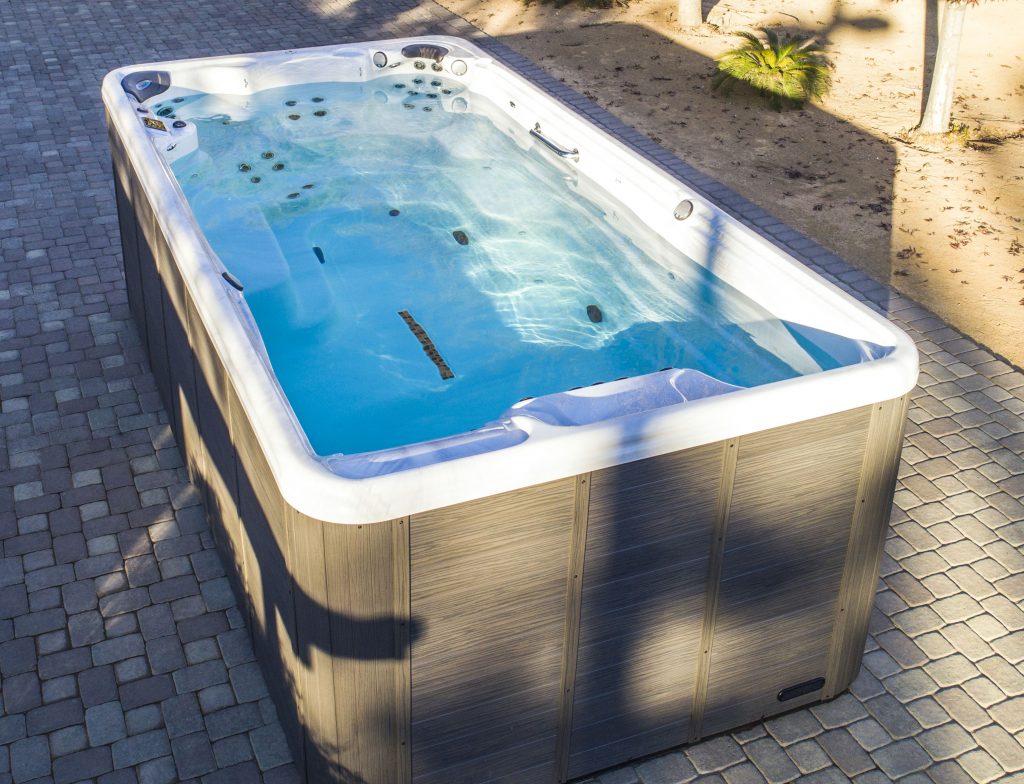 The exercise hot tubs are much larger than the traditional or portable type of hot tubs used for swimming and fitness purposes. They are very bulky and require a strong foundation to support it.
It is built into a deck or a specialized room though they have self-contained units. These are perfect for people who want to get into shape or for athletic practices as they are huge and give ample space for movement. Due to its immense size, it is also costly compared to the portable hot tubs and needs a place big enough dedicated to it.
Along with its general cost, there is a lot of operating cost. This type of hot tub requires a large amount of electricity to maintain the temperature ideal for fitness activities, and as it is large, it requires an equivalent amount of water to be of use.
Rotationally Molded Hot Tub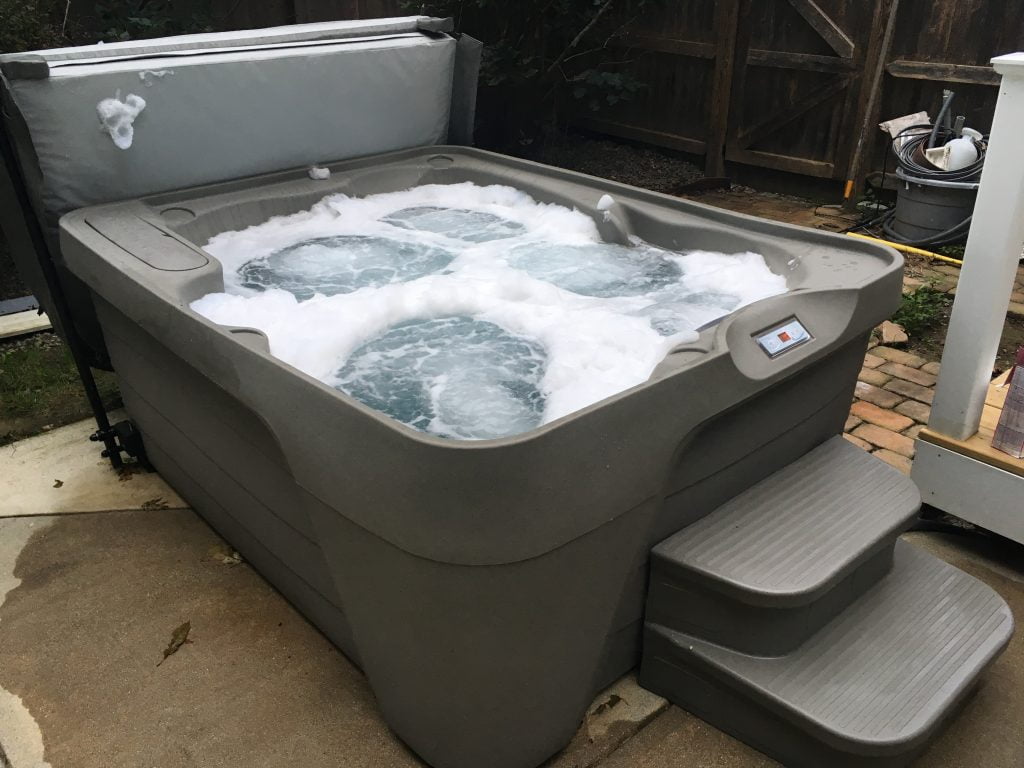 If you want a hot tub for hydrotherapy, then the Rotationally Molded Hot Tub is the right choice. These are less expensive than the Exercise Hot Tub and can be moved around even though it is not inflatable as it is less than 300 pounds.
The tub has contoured seating, and you can comfortably settle yourself into the tub for a relaxing session of hydrotherapy. A drawback of this type of hot tub is that it is attractive due to its plastic-like appearance. They are also not very efficient as other hot tubs, but they are powerful and have a significantly less probability of getting easily damaged.
Ground Hot Tubs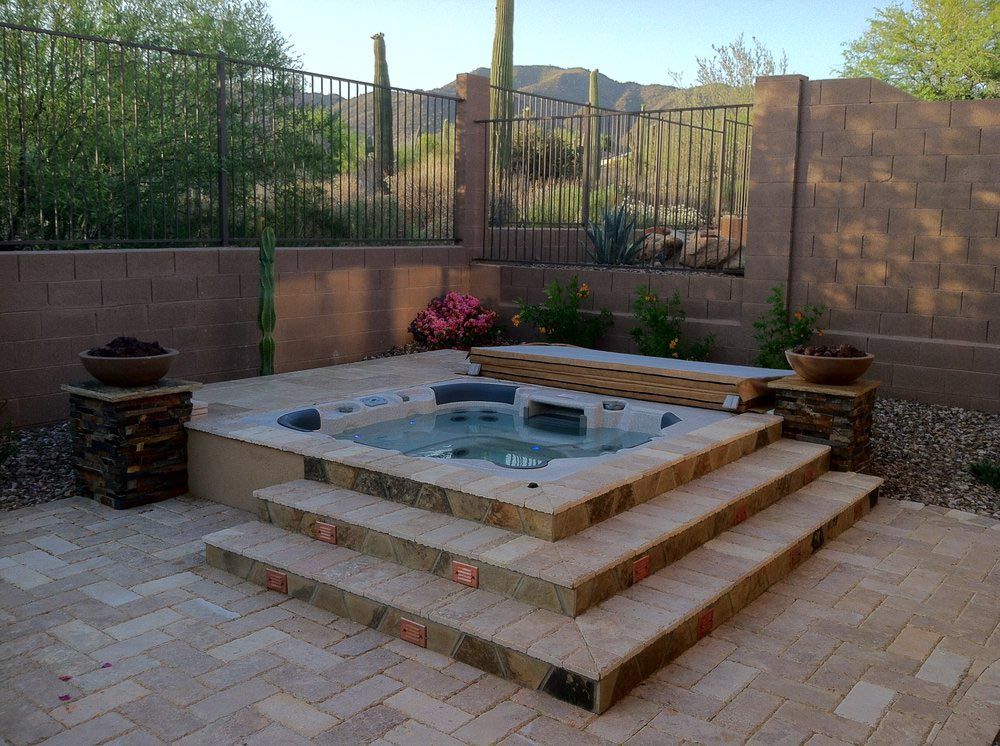 As the name suggests, Ground Hot Tubs are built into the ground and need a permit by the consumer for a professional to build it. The process of a professional building the tub makes this type of hot tub an expensive choice compared to the ones that can be bought in a store. There are two ways to buy a ground hot tub.
The first one is to buy the hot tub shell and get it placed into the ground, and the second one is to get a concrete structure made into the ground and then a hot tub built out of it. As you can see, a lot of work goes into making this type of hot tub and hence the high cost.
This tub is significant is because if you are worried about the aesthetic and don't want the tub to look out of place, this tub can be customized according to your needs and the in-ground make makes it seem part of the whole structure of the house.
Inflatable Hot Tub
Inflatable hot tubs are the type of hot tubs that are moderately priced and very convenient to move. They are new to the market and are often made of laminated PVC and polyester materials. Due to its unique material, they come in various shapes and have many features to choose from.
You will not need any exceptional electric work at your home to get a type of hot tub as the tubs warm the water efficiently and plug into a 110v outlet. They are less durable and can be damaged easily. Another problem with inflatable hot tubs is they are less comfortable as they do not have any seats. Compared to the traditional hot tub, they cost more to get the water heated.
Soft Sided Hot Tub
Many confuse this type of hot tub with the inflatable hot tub. Still, the main difference is that the soft-sided hot tub is slightly more cushioned than the inflatable hot tub, whose grooves might disturb the overall relaxation.
Like the inflatable hot tubs, the soft-sided tub is easily installed and does not require any exceptional electric work as they too plug into a 110v outlet. They are not very efficient to run and does not provide high-quality performance like a traditional hot tub.
Custom Made Hot Tub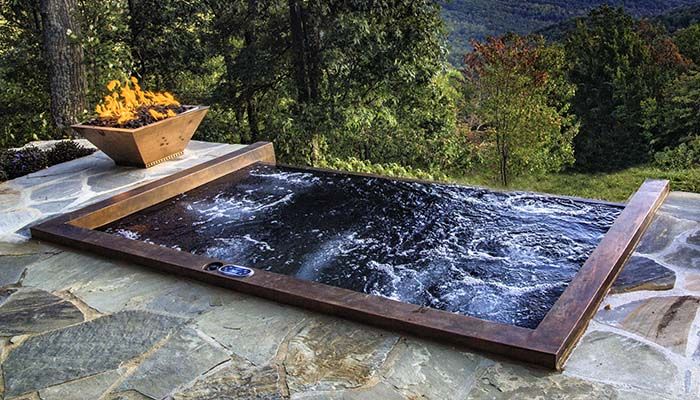 The custom-made hot tub is a blank canvas that can be filled in by the customer's needs. You can choose the type and customize it according to your needs, with the limit being only the possibility of whether the said needs can be made into a hot tub or not.
Hot tubs can be chosen based solely on the features they provide, and as mentioned in the fundamental types, each type of hot tub has other features built into it. Given below are different types of features that make hot tubs differ from each other and what to choose for what need-
Massaging Jets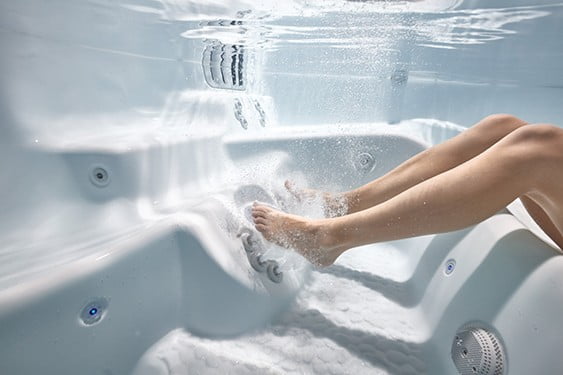 Even though a hot tub supplies excellent relaxation but if you require an even better experience, then the hots tubs that have massaging jets are the ones for you. The jets can be moved around for you to relax specific sore or tight muscles. It is also a fun way to keep the water moving and decrease severe pains and soreness.
Lights
Hot tubs can be fun in the dark, but the experience becomes more exciting and beautiful with LED lights. The lights can be dimmed or brightened based on your mood. This helps in placing the tub in locations where it gets dark soon.
Cover Included
Not using covers for your hot tub can increase operational costs as it is a great way to prevent leaves or bugs from falling into the tub and trapping heat from escaping, and decreasing the cost of cleaning large hot tubs. The cover can be installed for all types of hot tubs.
Pop Up Speakers
This is a much-needed feature for music lovers. Nothing enhances relaxation than music, but keeping electronic devices near water is dangerous, and you do not want them to get damaged. The speakers built into the hot tubs are waterproof and safe to be exposed to the hot tub.
Wood Fired
If your choice is of a soothing, rustic, and traditional experience, then the wood-fired feature is your desire. You will not have to worry about electricity supply but will have to make sure there is ample resource for a fire to heat your water, which means a steady supply of wood to the fire. It is also not the right choice for the environment. This feature will allow you to place the hot tub far from your home and in nature.
Molded Seats
To be entirely comfortable in a hot tub, you will require molded seats. The seats provide you a place to sit along with support so that you do not slip. The number of seats can be varied, so depending on the maximum number of people using the hot tub, you can choose.
Waterfalls
This feature immerses you into a deep state of relaxation with the sounds of waterfalls. The pressure from the waterfall also helps in releasing stress and relaxing your muscles. It gives an aesthetic look to your hot tub as well.
Variety of Shapes
Hot tubs can come in various shapes and sizes, so depending on your taste and needs, you can also choose what shape you want. Most people choose circular as many people can use the facility at once, but polygons are the right choice. Paired with modeled seats, you can pick an octagon-shaped hot tub if you require eight seats. This does not apply to all types of hot tubs.
These were some ways to choose the type of hot tub you require. Keep in mind to invest only if your need is satisfied and the costs are covered.