With the onset of the monsoon, gutters suddenly become an essential part of one's life. Yes! Cleaning and maintaining them can be very tiresome and (trust me) very dull! If you are also the one who does not like ladder climbing, then welcome to the club!
What can be more frustrating than a heavy rainfall and a clogged gutter? Moreover, it gets your hands wet, sticky, and (of course) dirty while cleaning it.
Do not worry! Cleaning the gutters can be avoided entirely if you plan wisely. How? Just get a gutter protector, which will reduce the hassle in no time!
Well, you may think that is great, but which type of gutter protector should I choose? Big Brain Time! So, let us analyze the most used types of gutter protectors: Gutter Screens and Gutter Guards.
In this article, we will go through the material of construction, efficiency, ease of installation, and a lot more about these gutter protectors!
Why Should One Make the Use of Gutters?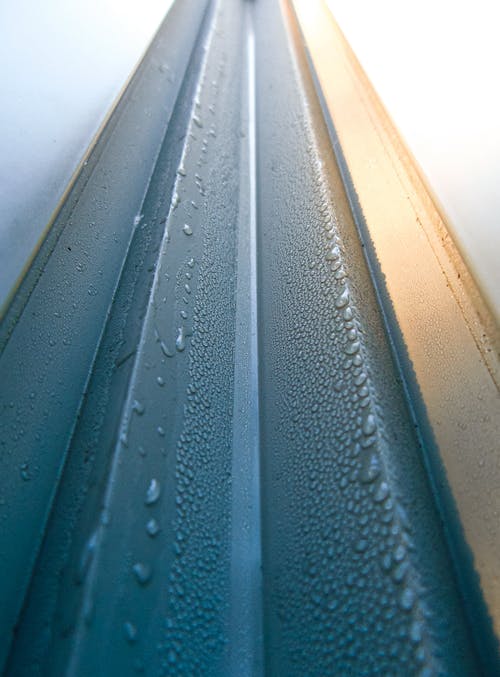 Firstly, let us understand the effects of the absence of gutters. Rainwater can cause the following issues over time:
Rainwater and even moisture damages doors, and windows.
Leakages (Mainly through roofs).
Rainwater can cause flooding in the basement.
Mold, fungi, and mildew accumulation can take place.
Foundation can get damaged.
Soil erosion.
Bug and insect infestations.
Well, if you still think about whether to employ gutters or not, then go through these essential two functions:
The first primary function is to reroute the rainwater (ideally) away from your house. So, gutters protect roofs, foundations, doors, windows, and walls.
Gutters will omit any cost for repairing any damage to the road as they prevent any structural damage. (Gutter protection mechanism offer an extra bit of defense).
Why Should You Prefer Gutter Protection?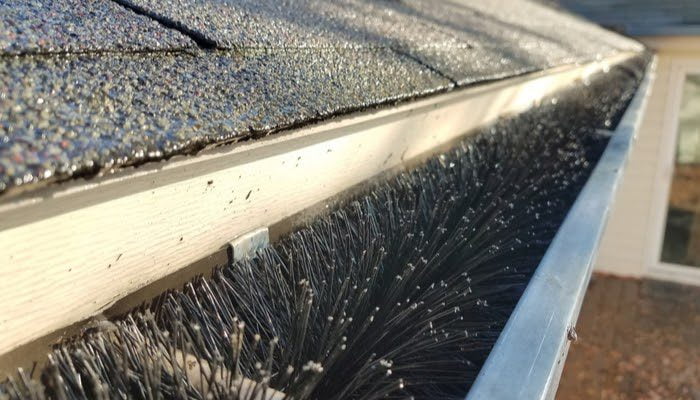 Just as we have progressed through the years (thanks to science and technology), our lives have become more comfortable and easy (at least physically). Gutter protection is just one (best) way to prevent clogging of gutters. The only thing you need to choose is 'How to do it?'.
Ask yourself why you should not use gutter protection! Without proper gutter protection, gutters can get blocked and clogged due to leaves (prime nuisance) and other debris. The absence of a proper gutter protection mechanism would have either lead this debris into the gutter system or cause a blockage.
To avoid any severe damage due to either of the two possibilities, a gutter protector should be used, which will either reroute or minimize these effects. To have the best results, one must analyze the situation and its needs as there are many types of gutter protectors available.
Thus, choosing the best type of gutter protector becomes very important for the best results in efficiency and ease. And that is precisely what we are doing here, so without any further ado, let us begin!!
Gutter Screens
As their name suggests, gutter screens are screening, which acts as a barrier between the debris and the gutter. The gutter screen restricts the debris, which would have eventually got caught up in the gutter. They are one of the most used gutter protectors.
E-Z-GUTTER GUARD EZ-Quick-10 Gutter Guard, Silver
Includes ten 4-foot sections - entire box installed covers 39. 2 feet; Each section notched for...
Easy to install – no screws needed; snaps out for maintenance
Heavy-duty expanded aluminum won't rust or rot
Not designed for plastic gutter; fits only 5" residential K-style gutter with hidden hangers
Tight mesh keeps debris out while letting rainwater rush through; Pine needles and other very small...
Construction and Materials
Gutter screens are screening that are made from plastic or metal. They are usually a bit inexpensive to build when compared to other gutter protectors.
Gutter screens have two parts, the frame, and the screen. The best choice of material for the frame is always a metal (usually which does not get corrupted or damaged due to moisture or water). The metal frame is more durable and a better choice to restrict debris.
Efficiency
They are one of the most efficient for homes where larger debris is the main problem. But they are relatively inefficient when we talk about smaller debris. Depending upon the screen, the screen openings may influence the size of debris that may pass through it.
The larger the screen openings, the larger pieces of debris may pass through them. Some expensive models have excellent screen openings that restrict most of the debris.
There are chances that some debris may block the screen openings. For example, pine leaves, which are needle-shaped or small pebbles, can get stuck in the holes and affect efficiency.
Thus, it increases the owner's task to clean regularly and removes any blockages of the screen.
Ease of Installation
Gutter screens are much easier to install. There is no need for any professional help (usually), and one can easily install it on their own. But the installation process depends on the instructions given by the manufacturer.
Final Note
The gutter screens can be an ideal choice for the restriction of larger debris. They are indeed not the solution you are looking for if you face problems with smaller debris.
Gutter Guards
Another very common and most widely used gutter protector. Gutter guards are also called gutter covers. These are attachments that are connected to the gutters. Gutter guards have a bit sturdier structure when compared to gutter screens. They are well-known for their endurance.
Stainless Steel Micro-Mesh, Raptor Gutter Guard: A Contractor-Grade DIY Gutter Cover That fits Any...
Stainless steel micro-mesh blocks leaves, pine needles and roof grit from entering your gutter.
Heavy-duty materials withstand all the elements and will never rust or warp.
Easy to install on any 5" wide or smaller gutter and won't void your roof warranty.
Designed, Assembled and Packaged in the USA. Backed by 25-year warranty and a world-class support...
Includes self-tapping, corrosion-resistant screws.
Construction & Materials
Gutter guards are the ones that fit in the gutters. So, there is a wide range of materials used. The most common gutter guards have guards that are made from either foam or brush.
Brush guards are usually cylindrical. They look quite like the wire cleaning brushes. At the same time, foam gutter guards are foam inserts that are embedded in the gutters.
Both these guards' function to restrict debris from entering the gutter. The material used in the preparation of these foam inserts is mostly polyurethane.
Foam gutter guards are usually porous, which aids easy penetration for water. Rainwater quickly passes the porous material of the guard and reaches the gutter.
Efficiency
The efficiency of both brush and foam gutter guards is quite different. Both have different aspects and concerns.
Firstly, talking about the brush gutter guards, they are useful in restricting larger debris' entry. Also, these guards do not easily get corroded (thanks to their design).
As water passes freely without any restriction through these guards, they have spiky structures that trap the debris. Yet smaller debris do end up in the gutters.
Also, bottle gutter guards require frequent maintenance for higher efficiency, which can be a significant disadvantage.
As the water quickly penetrates through the foam gutter guards, a moist environment is created. This scenario is perfect and like heaven for mold, mildew, and microbes (mostly bacteria).
They can cause some severe foul smell and may create some nuisance. But they restrict even the smaller debris as the foam gutter guards themselves occupy maximum space inside the gutter.
Ease of Installation
Most types of gutter cover usually require professional assistance for proper installation. Though many people can install it independently, it is recommended to take proper professional help for installation to make it more efficient and hassle-free.
Talking specially about foam and brush gutters guards, both these types are relatively easy to install. Both these types hardly require any professional help for installation purposes. These gutter guards can be easily placed inside the gutters once they are free from any debris after a thorough cleaning.
Final Note
Gutter guards quickly catch attention due to their design. While gutter guards are the smartest choice when we talk about installation and efficiency, their durability is undoubtedly a bit doubtful. Gutter guards require frequent maintenance and have a short life.
For example, foam gutter guards last hardly two or a maximum of three years, and then they need to be replaced. Make a wise choice as they are best for smaller debris but do require frequent maintenance.
Finally, having a gutter protector for your gutter is no longer a comfort but instead has turned into a necessity that ensures proper drainage. It helps in assuring safety and reducing deterioration of the house.
Choosing the right type of gutter protector depends on the type of debris most frequently found around your premises or the one that causes havoc while cleaning or causes the most blockages.
Proper analysis of this part can help you make a proper decision for selecting the right type of gutter protector.