Christmas and decorations go together. It has been a tradition to decorate houses during this festival. Decorating your house in time and beautifully for Christmas is a challenge. There are two options for decorations, and one is you can buy the complete Christmas decorations, or you can DIY Christmas decorations.
For Christmas decorations, the material required ranges from Christmas trees to gift wraps to lights to wreaths, and many more. Many people break down the decorations into two parts — Indoor and Outdoor. In this article, we will be talking about outdoor décor.
You can buy many Christmas outdoor decorations, but nothing gives the satisfaction of a home-made DIY outdoor Christmas decoration. The best way is to have a combination of both the décor.
Indulging your kids in the DIY projects will increase their imagination, improve their understanding of the festival, and you could spend some quality time with them.
Another reason to do DIY projects is that they are relatively inexpensive. Talking about DIY outdoor Christmas decorations, everyone always tries to be more and more conventional and traditional. But having a tinge of quirky décor is not a bad idea!
In this article, you will find some unusual, weird, and cute DIY outdoor Christmas decorations that will bring a smile to your guests' faces. These outdoor décor ideas will be the topic of discussion amongst the guests.
The satisfaction of DIY is an additional bonus. We suggest you be innovative and play along with these outdoor décor ideas. You can always modify these ideas to try and make them bolder and more attractive.
To cheer and bring in the festive mood, always start with the outdoor Christmas decorations. You can always try to be subtle and suggestive. For example, you may like snowmen, then design the outdoor Christmas decorations with the snowmen theme.
You can implement multiple DIY outdoor Christmas decoration ideas to make it more intriguing and joyous.
The Grinch Stealing your Outdoor Christmas Decorations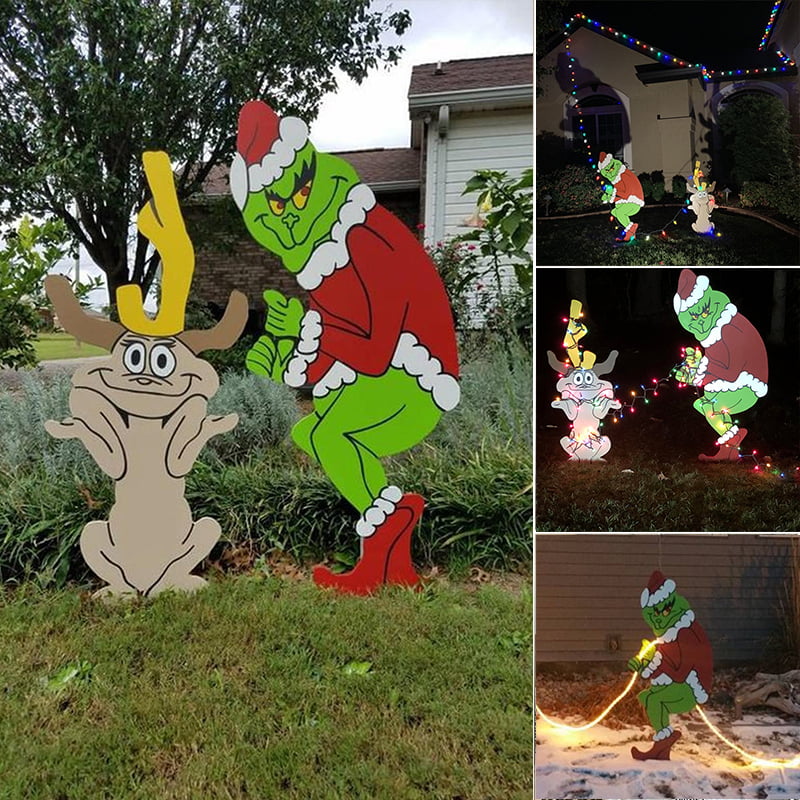 This DIY outdoor Christmas decoration idea is fun, unusual, and least expected! I do not think there even exists anyone who hates Christmas more than the Grinch. Then let us bring the Grinch to our party and let him steal some of your precious outdoor Christmas decorations.  Movie buffs will love this idea.
This DIY project is not only intriguing but also can be prepared quickly and inexpensively. You can either buy a Grinch inflatable, but a DIY one will also do the trick. You would need to draw the Grinch on a wooden or plywood sheet and cut it into its shape and then paint the Grinch in its standard colors (You can also find a template of the Grinch which will ease the project or place the Grinch printout for the outline).
Do not forget to add an evil, wry, and cunning smile of the Grinch as he is successful in stealing your outdoor Christmas decorations. Also, draw the Grinch in a bit sneaky and ready-to-run position. Just place the Grinch amidst your usual outdoor Christmas decorations and place lights or gift boxes in his hands.
Gift Wrapped House Door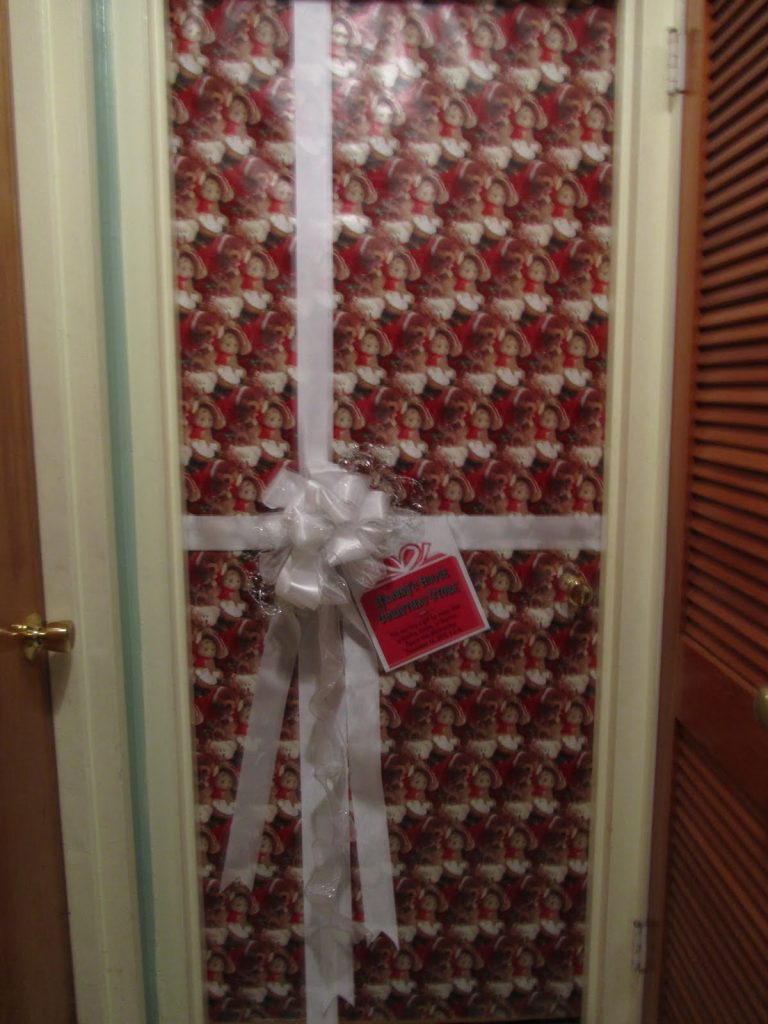 During Christmas, the door is usually decorated with wreaths and garlands. You can implement this DIY outdoor Christmas decoration to stand out from others. The guests will be in awe when they see this beautiful gift at the entrance of your house. But all they can do with this gift is — Knock! This idea gives a Christmas feel and is the best welcome you can give to your guests.
The Reindeer Family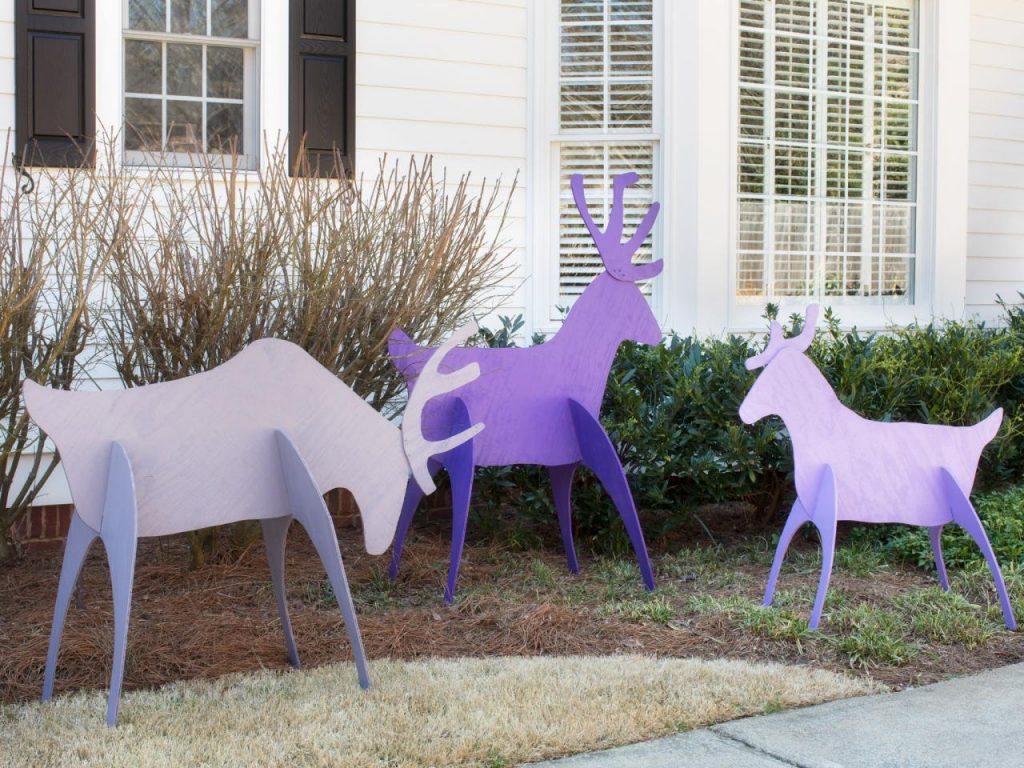 Reindeer and their presence on Christmas are a must! You can either buy a reindeer family inflatables or DIY this idea. All you need is carve out three reminders (Dad, Mom, and Kid Reindeer) of different sizes from wooden or plywood sheets and paint them in Reindeer colors.
(You can also find templates of Reindeer, which will ease the project). You can also place some lights on their antlers to make the reindeer family more visible at night. Alternatively, you can also make a log Reindeer family.
The Gingerbread Family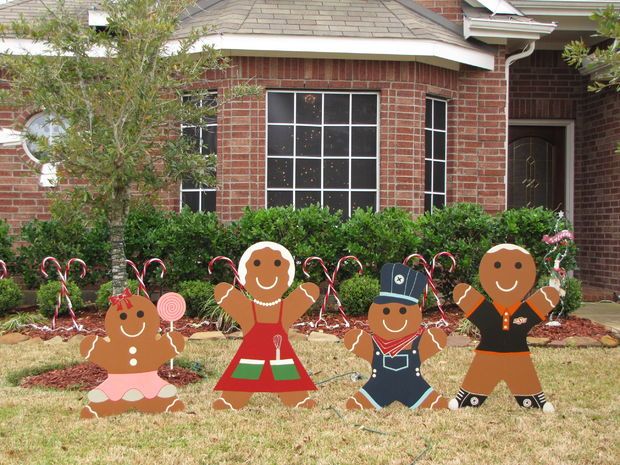 In a world full of tasty cakes, cupcakes, cookies, and other calorie-rich desserts, we need a calorie-free gingerbread. This gingerbread family will make from wooden sheets or plywood. Use your creative mind to decorate this family to make them more attractive and unconventional.
Intense Glowing Archway and Door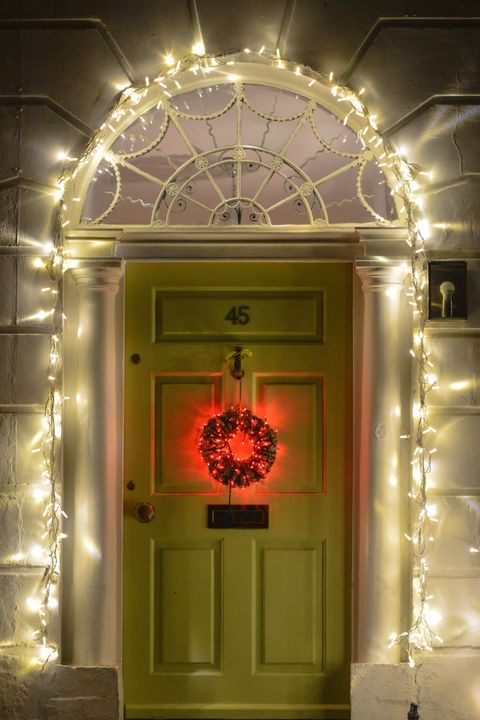 Using regular Christmas lights is a usual décor, but using intense glowing lights is unusual and least expected. This idea is all about lights! Just place glowing lights on the archway and place a glowing wreath on the main door.
A Small Unusual Wired Christmas Tree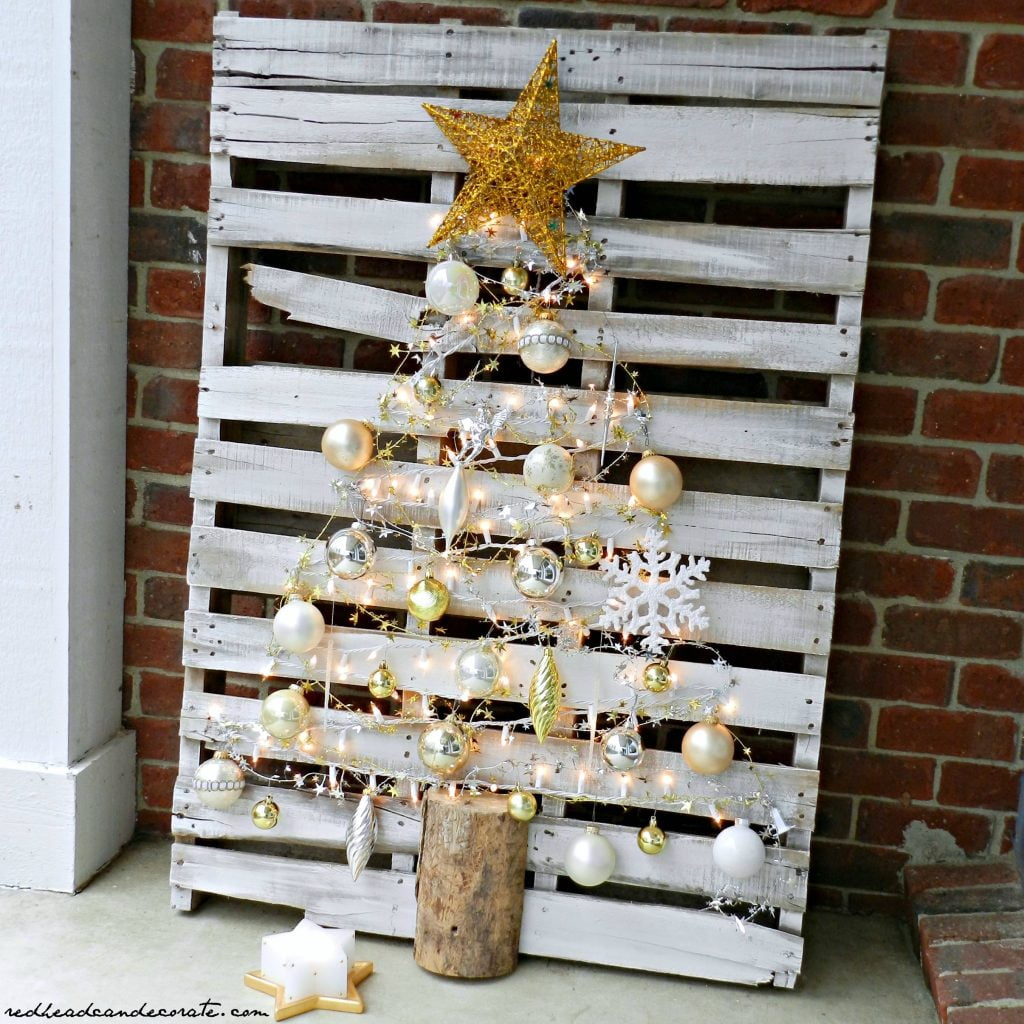 If you do not like chopping down a Christmas tree and want to use less wood in your DIY outdoor Christmas decorations (Smells like an environment lover), this project idea is tailor-made.
For this DIY project, you would need a pallet on which you need to hammer nails in a Christmas tree's shape. Just place the lights (such that you get a Christmas tree shape) on this nail, and you have got the upper part of the Christmas tree. You can decorate it with small Christmas ornaments and other decorative stuff. For the bottom part, place a wooden block. Voila! Your wired Christmas tree is ready.
Log Snowmen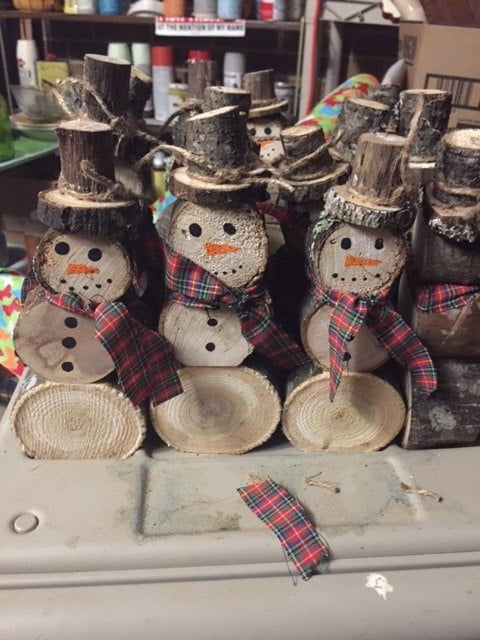 If you have extra logs, this idea will work for you for the DIY project idea. Place three logs, one above the other. The log with a bigger diameter should be placed at the bottom. All you need is some paint colors (black and orange) and primer to quickly paint these snowmen's eyes, nose, and a happy smile.
Use new hats and scarves for these snowmen. You can also place two circulars (of different diameters) of wooden pieces on the snowmen instead of a hat.
Wreath Snowman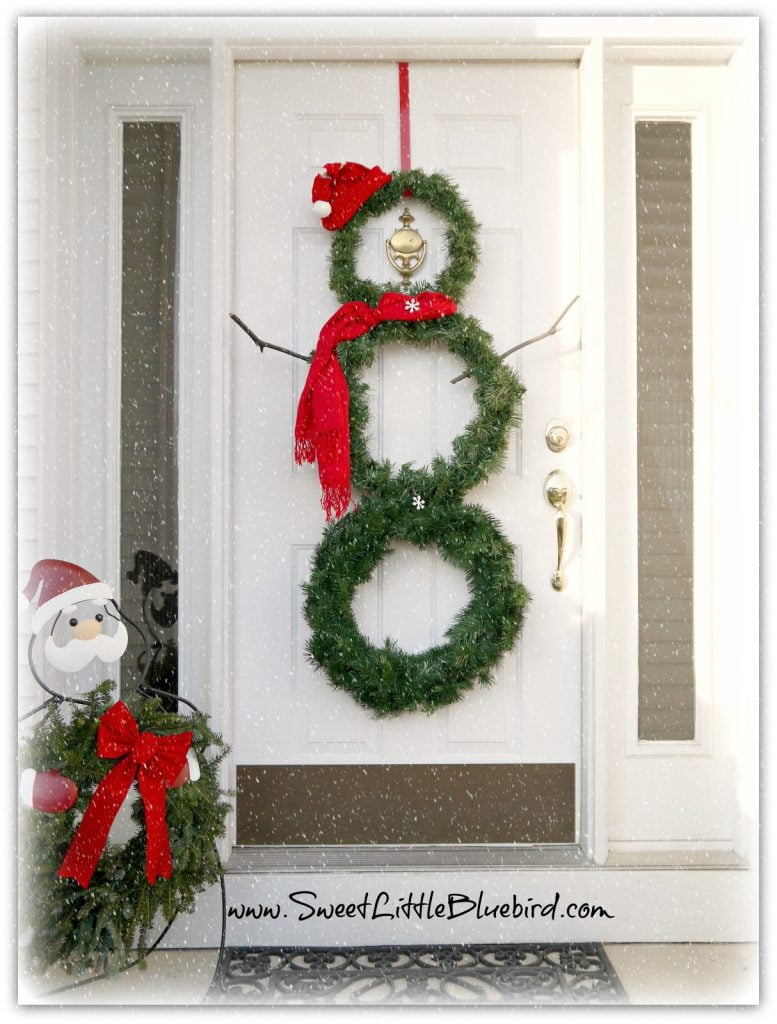 What is better than making a DIY snowman using wreaths! This DIY project is easy and inexpensive. For this, you need three wreaths of two or three different sizes. The smaller one is for the head, and the other two are for the snowman's body.
Place these wreaths in vertical order, with the smaller ones on the top. You also place a small scarf and hat on the snowman. For hands, take two small sticks and put on the baby gloves.
Snowman Uses a Smartphone?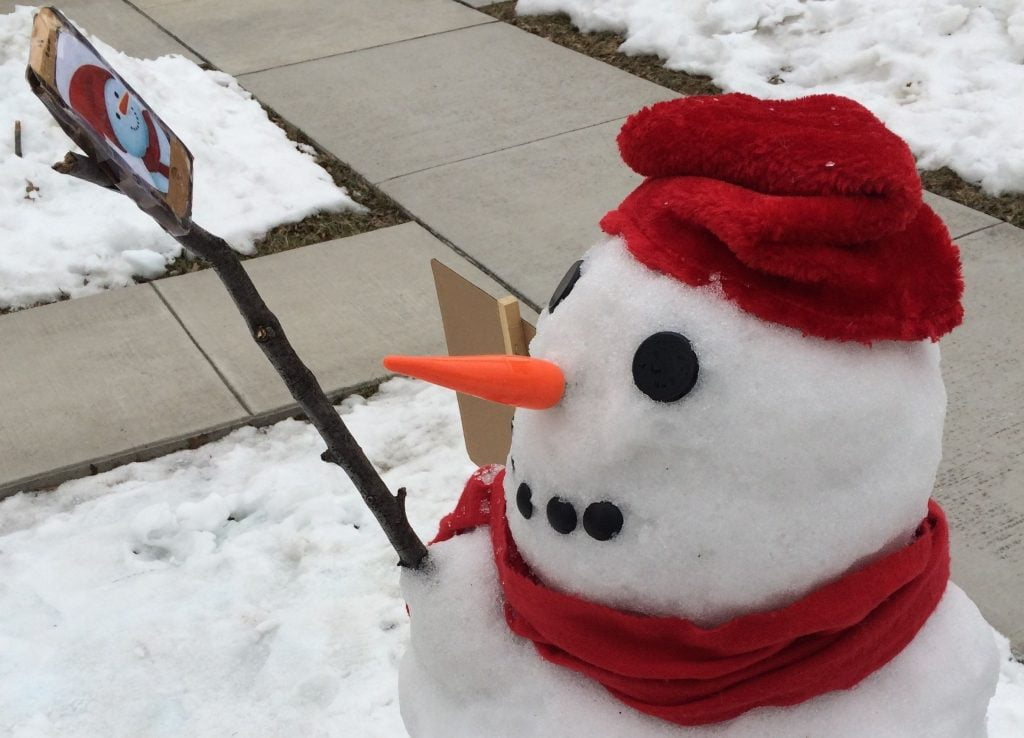 Welcome to the era of technology! Where even the snowmen seem to enjoy using smartphones. This can send a subtle message to the children and their parents that smartphone over-usage is harmful (Ensure that the snowman is sad).
You can use any snowman, even the one which is made up of snow. This can be viewed as an add-on décor that is unusual, unconventional, and easy to prepare. You must stick or attach a smartphone. You can either use a toy phone or a damaged smartphone (In the previous DIY project idea, place a toy smartphone in the snowman's gloves).
Wood Shavings Wreath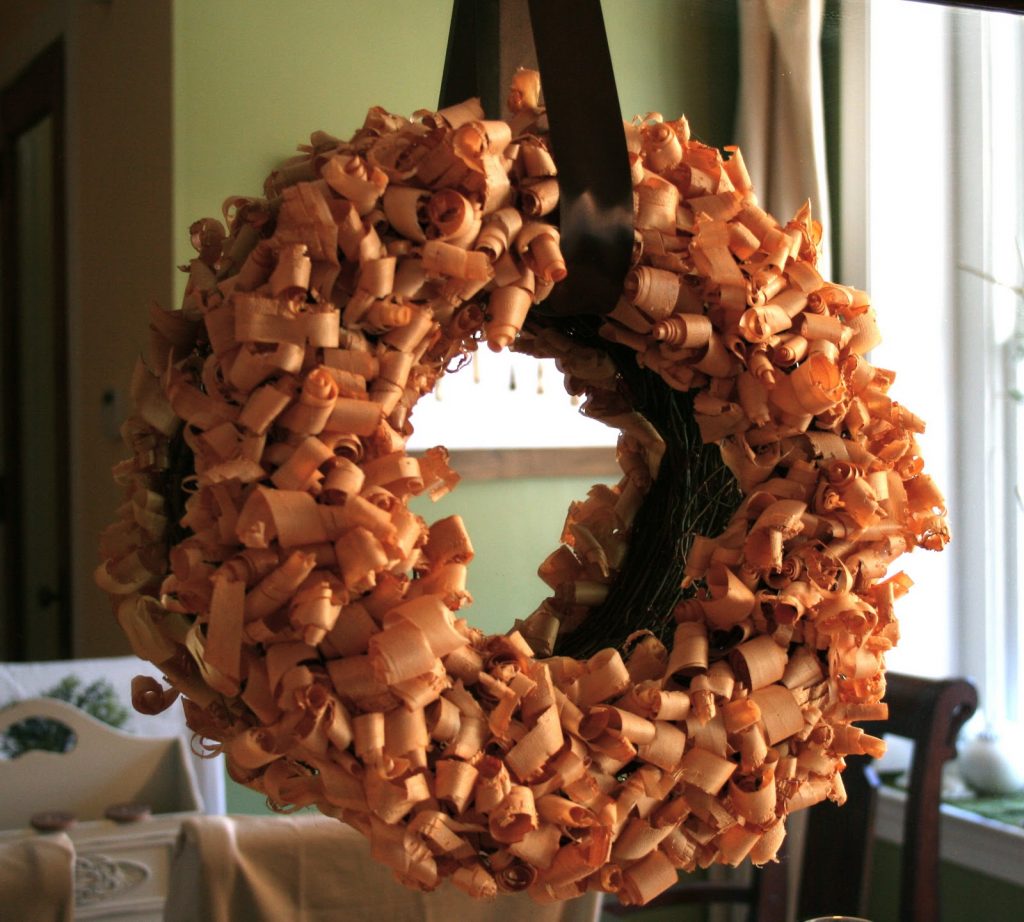 If you have wood shavings, then do not throw them away. Instead, use them to prepare this unusual wreath. You need to arrange these wood shavings in the shape of a wreath. Use a ring as a base. Add bells and cranberries to complete the look of the wreath.
A Huge Christmas Tree Coming Out of Your Roof!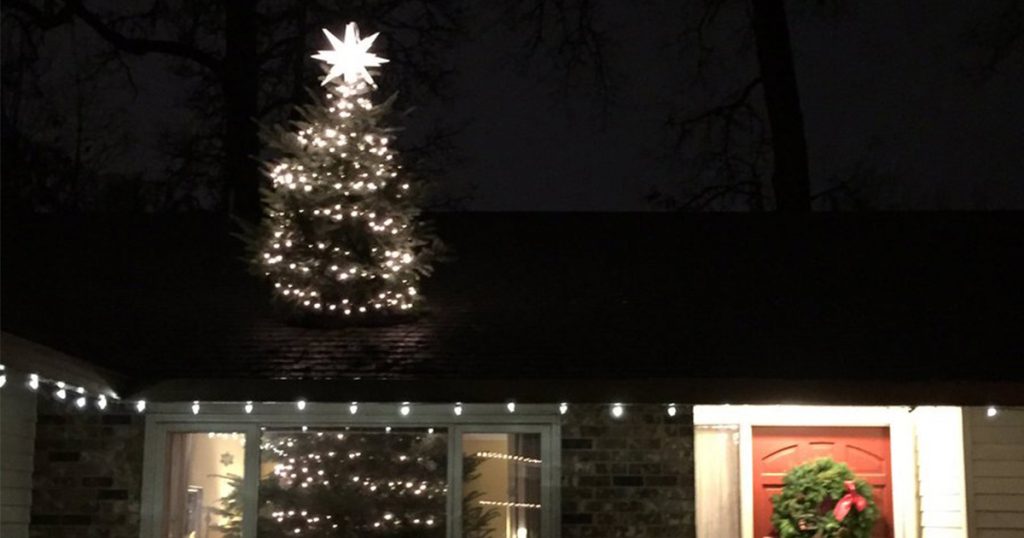 When the Christmas tree is so huge that it comes out of the roof, it is the least expected and most unusual Christmas décor one can expect. You can either use a real Christmas tree or even an artificial one. Irrespective of the type, you need to place at least a quarter part of the Christmas tree on the roof.
You must cut down this part and place it on your roof (ensure that it does not slide down). Further decorations, which include lights, ornaments, and other decorative stuff, is left for your creative mind to work on!
Christmas Tree using Potted Boot Plants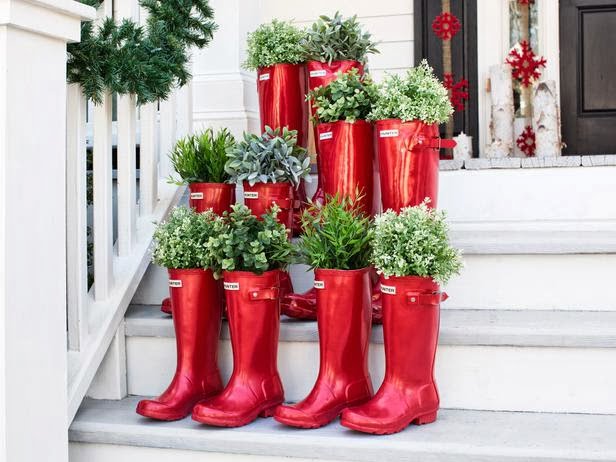 If you have spare rubber boots, then this idea will work for you. These green plants will look like a Christmas tree when you look at them from a distance. You will 10-12 such potted boot plants to form a Christmas tree.
Place all the potted boot plants at the entrance. Arrange them in the shape of a Christmas tree. If the plants are short, then first place an elevation such as a box inside the boot. From a distance, plants should be visible instead of the boots.
Note: All the DIY projects made from wooden sheets or plywood should be attached to support pinned to the ground.
Conclusion
Christmas is a festival of joy and happiness. I hope these DIY outdoor Christmas decorations will bring joy and happiness to your life. Take these DIY ideas as inspiration and play around them to find some new DIY ideas yourself!