Pogo sticks are spring-loaded sticks that can be used to jump up and down. It comes in various sizes, from kids to adults. Pogo sticks are considered the best tool to keep your kids active and encourage outdoor activity. But still, some parents are not sure about the safety of their children when they play with pogo sticks.
The whole concept of playing with pogo sticks is unique and seems dangerous. Therefore, people are more concerned about the safety of their children. If you are also confused about whether you should say yes to pogo sticks or not then, this is the right platform for you.
We have collected some of the informative facts about the pogo sticks review.
Are Pogo Sticks Safe for Your Children?
Flybar Maverick Pogo Stick for Kids Ages 5+, 40 to 80 Pounds, Perfect for Beginners, Easy Grip...
PERFECT FOR THE FIRST-TIME JUMPER: This pogo stick for 5 year old is a great entry-level pogo for...
FOAM COVERED METAL FRAME: This Flybar pogo stick features a fully enclosed spring that's...
SAFETY FEATURES: Foam pogo jumper for kids offers sturdy, non-slip foot pads and wide bounce tip for...
NO ASSEMBLY REQUIRED: The Maverick comes ready to bounce straight out of the box, so kids will be...
TRUSTED FLYBAR QUALITY: As the original Pogo Stick Company since 1918, Flybar continues to set "the...
Pogo sticks are safe for your children only if you follow the safety instructions strictly. Pogo sticks are designed after keeping the safety of users in mind. Some additional points can raise the level of safety while playing with pogo sticks. There are some keys also which you must check before buying any pogo sticks.
Things To Follow While Using the Pogo Sticks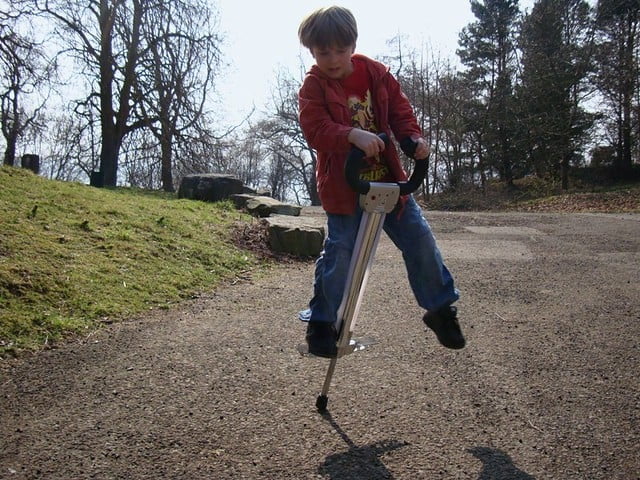 Do Not Allow Your Children to Play Alone with Pogo Sticks
The very first and major point is to keep an eye on your children whenever they are playing with a pogo stick. At the very beginning, hire an expert who can train your children properly. Training is important for newcomers to avoid any accidents.
Even after the training, do not become overconfident and start using the stick alone. Baby steps are the key in the case of learning pogo sticks. Start from the basics and avoid accidents.
Wear Your Safety Gears
They have come safety gears with every pogo stick. Safety gears include helmets, knee pads, and elbow pads. Whether you are a kid or an adult, never forget to wear safety gear. These are meant to protect you from injuries in case you have an accident.
If safety gears don't come with your pogo sticks then, buy them additionally.
Check The Stick Before Buying It
Usually, the pogo sticks come with safety but cross-check before buying them. It may be possible that some screws are missing or there are some dents in the stick. These mistakes can lead to serious injuries. Buy a stick that has either warranty or guarantee.
Before buying it, make a quick inspection of the stick. Jump on it to know the quality. Check if the handlebar is up to the mark or not. If it makes any rattling sound then, replace it immediately. To check all these things prefer offline shopping instead of buying it online.
Bounce On Solid and Flat Grounds Only
Always use flat grounds, which are solids to bounce on pogo sticks. With every bounce, you apply approximately 100-pound pressure on the ground. Therefore, the surface must be solid enough.  If the surface is not strong enough then, it may create a hole in the surface.
Do not try to become an action hero and choose the surface wisely. Otherwise, you will fall back on the ground and regret it.
Go For Open Areas
Do not try to jump on a pogo stick at narrow areas with lots of huddles and crowds. Also, do not choose the parking area otherwise;, you may jump on a car. In crowded areas, chances are there you may, jump over a human or animal. We are sure you don't want to face such embarrassing situations.
Therefore, choose an open playground with no huddle at all. On open ground, look after the objects. Make sure you don't jump over the overhead objects. It can harm you with a serious injury.
Throw The Stick in Case of An Accident
If you feel any imbalance in the air, immediately throw the stick and land safely on the ground. If you try to save the pogo stick, then you may harm yourself. Therefore throw the stick. It won't affect the stick.
Your safety must be your priority. Pogo sticks will come and go, but you will not receive another knee if it gets hurt.
Maintenance Of Stick
Take care of the maintenance of the stick. Even the simplest toys need great care, so the pogo sticks need. If you use the stick regularly, then tight its screws every week. Don't apply pressure on the stick to apart it. Have patience and let the pressure comes out of it slowly until the slide shaft collapse properly.
If it starts making a cracking sound then, it's time to change it and buy s new stick. If you are using the old pogo stick after months, then do the proper inspection.
This was the required knowledge a pogo stick user must have. Do not worry about safety while jumping with pogo sticks. It is safe to use if you stay within your limits. If you try to become Spiderman while jumping on a stick, even god cannot save you. Therefore, have patience, follow the above instructions, and start believing in yourself. You are going to become a pogo stick master soon.