If you live in an area where it snows more than often, owning a suitable snow blower is a must. But one doubt always remains-What to choose between a single-stage and a two-stage machine?
Dual-stage snow blowers and single-stage snow blowers are different tools, and you must understand the differences so that you can invest in the machine that is suited to your need.
This can depend on many factors, such as the area's size from where you need to clean up the snow or the amount of snowfall your place receives.
To make your job easier, we have done a detailed single-stage vs. two-stage snow blower comparison.
What is a Single-Stage Snow Blower?
A single-stage snow blower is a typically smaller and lighter tool as compared to a dual-stage snowblower.
If you live in an area that receives parse to moderate snowfall, this tool can probably work the best. It can work both on electricity and gas and is equipped only with a single auger to collect and throw the snow.
As the auger located on the machine's front side rotates, the snow is pulled up and simultaneously discharged through the chute.
Depending on the size and power source of the snowblower you buy, the single-stage one can throw away the snow up to 30-35 feet.
No products found.
It is not recommended to use this device on a textured pathway full of gravel since it can be injurious. It would help if you instead used it on a straight, even surface.
Pros:
Among all garden and yard tools, snow blowers are the most expensive, but a single-stage snowblower price is comparatively reasonable. They are not cheap but will not cost as many bucks like the other models.
Single-stage snow blowers are much lightly designed than the two-stage ones, which makes drifting them through the snow much more convenient.
Single-stage snow blowers are compactly designed and are equipped with comfortable, manageable controls for simple maneuvering. They are best suited to clean up areas experiencing light snowfall.
They are lighter in size, making the snow cleaning process much more efficient since you can move the machine and clean up the snow much faster.
In the case of a single-stage vs. two-stage snow blower, if you use a single-stage blower on even surfaces, it can blow away all the snow efficiently without even leaving the thinnest layer of snow behind.
Cons:
One of the main cons is that the snow clearing capacity of a single-stage blower is much less than a dual-stage one.
Yet another crucial disadvantage is that a single-stage snow blower cannot handle wet or heavy snow.
If you are trying to clean the snow on an uneven surface, full of gravel, or any other material, a dual-stage snow blower is always better.
Sometimes, the auger might scoop up some unwanted materials along with the snow, which can cause damage to the machine.
If you live in hilly terrain, using a single-stage snow blower can be very inconvenient.
What Is A Two-Stage Snow Blower?
A dual-stage snowblower can throw the snow away to a distance almost up to double as a single-stage blower.
They have been specially designed for areas receiving heavier snowfall, almost up to a depth of two feet or even more, depending on the machine and power source's size.
The difference between this tool with the single-stage snowblower is that along with the auger, and it is equipped with an additional impeller rotor to handle a more significant amount of load.
Yet another specialty of these snow blowers is that they can clean up wet and heavy snow.
PowerSmart Snow Blower Gas Powered 26 in. 4-Stroke 212cc Engine with Electric Start, LED Headlight,...
Powerful Gas Engine: 212cc PowerSmart 4-stroke gas engine offers powerful snow-clearing action....
2 Stage Snow Blower: Strong all-steel auger cuts through tough snow and diverts it away from the...
Snow Clearing Capability: Max clearing width 26" and clearing depth 20". Ideal for clear up 10 car...
Self-propelled System: 6 forward and 2 reverse speeds, enhanced driving confidence. 13" track tires...
Prime Features: LED light, one-hand 180° chute control, adjustable metal skid shoes, chute clearing...
They have an adjustable clearance level feature, which means you can use them on any surface. If you want to clear pathways and driveways full of gravel, a dual-stage blower works best.
It will not be scooping up anything that you do not want to scoop if you can set it up at the right height.
The best advantage of a dual-stage snow blower is that you can throw all the snow far away from your path, almost up to 60 feet.
Pros:
In the case of a single-stage vs. two-stage snow blower, the snow handling capacity of dual-stage snow blowers is always better than the single-stage ones. It can also handle any snow, be it wet and heavy or icy, unlike a single-stage blower.
It can be used on any uneven terrain with gravel, turf, or anything else.
The clearing width of a two-stage snow blower is much larger, and they can cover a wider surface area only in a few strokes.
Two-stage snow blowers are always equipped with a better wheel system, and the traction is always better, so you can comfortably use it on inclined surfaces.
Dual-stage snow blowers have built-in advanced features such as a power-assisted/ self-propelled drive function. This will help you to clear up large areas covered with thick snow with only minimum effort.
It also has other additional features compared to a single-stage snowblower, such as LED headlights, extra controls, and adjustable speed.
Cons:
Snowblowers are generally very expensive, and a proper dual-stage snow blower can be even more pricey, even if you opt for a battery-powered one.
In the case of a single-stage vs. two-stage snowblower, a dual-stage snow blower is equipped with more complicated features and functions, and so it requires way more maintenance with a regular schedule.
They are much bulkier than a single-stage one's ad, so drifting them through the snow becomes comparatively tricky.
This one does not clean up the last layer of snow left on the ground, which a single-stage snowblower does.
Things You Should Consider Before You Make the Purchase
Type and Size of The Job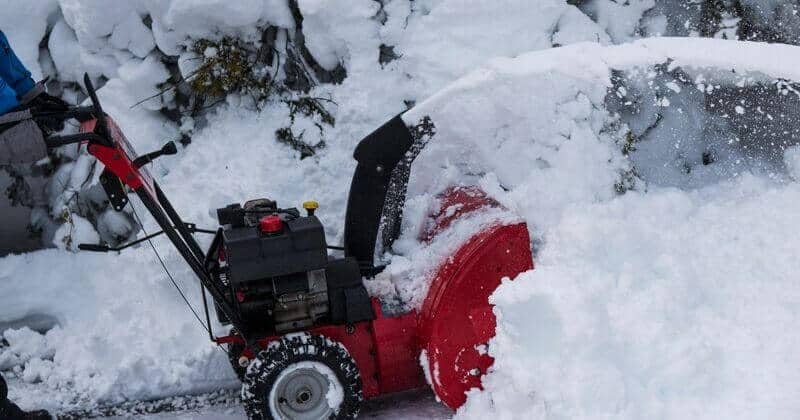 You need first to consider the snowfall, the area you reside in receives. Is the snow light and dry or thick, icy, and wet? If the snowfall is hardly 8-12 inches thick, then you can do it with a single-stage blower. But for heavier snowfall on uneven terrain, purchasing a dual-stage snow blower is a better option.
Physical Strength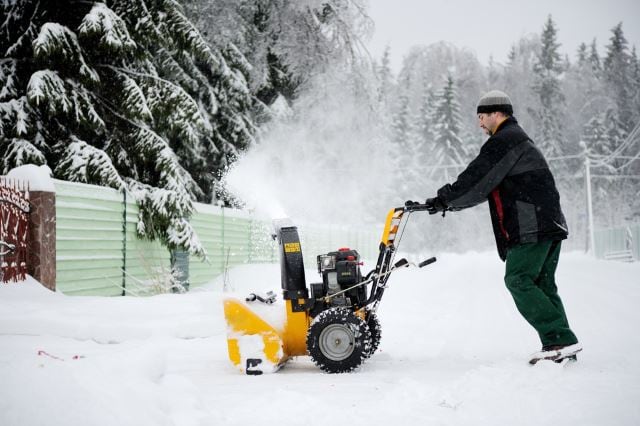 Snow shoveling is challenging and requires more strength than it seems. If you apply more strength than you possibly can, back injuries are probable.
But if you use a snowblower with a good quality engine, you hardly need to apply any physical strength, and you can even have a little fun shifting the snow.
Both single-stage vs. two-stage snow blower has great snow blowing capacity, but it is basic common sense that for dual-stage snow blowers, you require even lesser strength. So, buy only the model you feel is convenient for you and your health.
Electricity V/S Gas Powered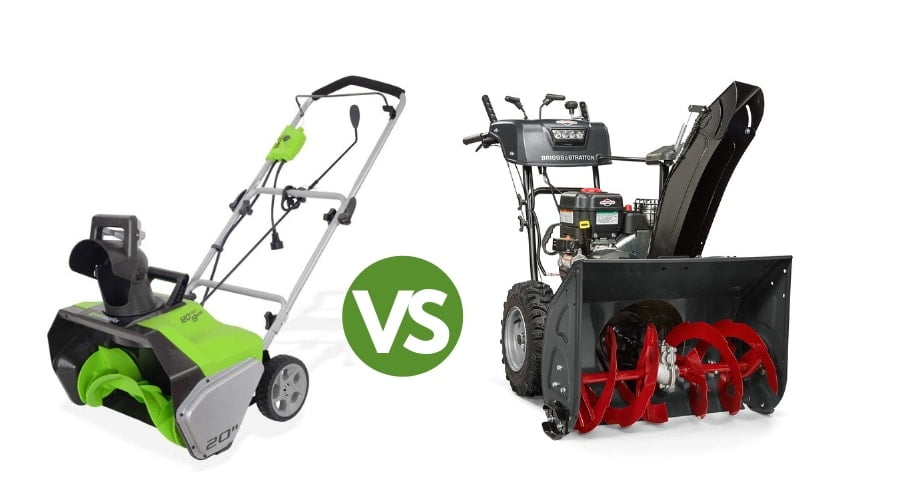 Just like any other tool, even snow blowers have multiple sources of power. Electric models are available in both corded and cordless varieties. If you are on a budget, corded snow blowers are a great option, but they have the disadvantage of being dependent on socket access.
But if you want greater freedom of use, battery-powered snow blowers, even though heavier, are a better option. Gas snow blowers have a superior run-time, though they are a bit more expensive and heavier.
Cost
Among most backyard tools, snow blowers are the most expensive. If you are not willing to spend much on your snow blower, between a single-stage vs. two-stage snowblower, a single-stage snow blower is the best option you have.
Here Are Some of The Best Models of Snow Blowers:
Greenworks 2600502 Corded Snow Thrower
This one is a light, fundamental, single-corded model from Greenworks. It is equipped with a 13 amp motor and a directional chute that is easily adjustable. It is easily controllable up to 180 degrees so that you can quickly deposit the material. The machine has 7-inch wheels, which enhances its mobility. Also, it has a compact design and an easy-to-use, non-intimidating tool.
Sale
Greenworks 13 Amp 20-Inch Corded Snow Blower, 2600502
13 amp motor delivers powerful results for gas alternative
Adjustable 180 degree directional chute makes snow throwing manageable ; Easy electric start for...
Discharge snow up to 20-feet. 7-inch wheels for greater mobility
Only works on 120 volts ; 20-inch clearing path and 10-inch clearing depth
Snow Joe iON15SB-LT Cordless Snow Blower
This one is a single-stage, battery-powered model with a powerful 40-volt, 2.5 Amp ion battery. It is equipped with a power pack and a charger with a 180-degree directional discharge chute. They also have advanced eco-sharp technology, temperature-resistance features with a durable plastic auger.
Snow Joe ION15SB-LT 15-Inch 40 Volt Cordless Single Stage Snow Blower, Blue
Versatile: small driveways, sidewalks, and walkways
Eco sharp technology: exclusive no fade power and maximum performance
Clearing width/depth: 15 in. (38 cm)/8 in. (20 cm)
Throw distance: 20 ft. (6 m) Max.Auger Diameter:8 inch
POWERFUL: 500 W brushless/2-blade temp-resistant durable plastic auger , Directional control: 180°...
Now that you know both the pros and cons of both single-stage and dual-stage snow blowers, you can easily choose according to your preferences.